Here is the draw for Mosaic Music 1. Please ask me if you have any questions….
So, just to recap, your song/track should be:
Under 1 minute in length
Between 150 & 160 bpm
Should be partly inspired by 3 genres of music: Therapy, Krautrock and Big Beat
You should use (primarily) 5 instruments; 3 x Brass, 1 x Synth and 1 x Other (I also think that drums/beats can be included, as well as vocals if you choose)
The key of the track is "C"
If you choose to have vocals, there should be 4 of them
If you choose to have lyrics, they should be inspired by/come from "a book"
And your other instructions are:
"Emphasise the Flaws" and
"Accretion"
Please forward me your tracks by the end of February. Good luck….
Until early last year, I didn't really know anything about Jonathan Meades. I kind of recognised him in his dark sunglasses from documentaries in the mid 90's that I didn't pay attention to. I came back from a run to see him talking about Aberdeen's architecture in a humourous, erudite, smug, self-aware wordy manner. I watched the programme and loved it – the series was "Off Kilter" and was about (sort of) Scottish architecture. But Meades is much more than an architecture critic, he was also, at one point, a food critic. But that doesn't really do him justice either. The way he weaves in personal memories, art, language, music, film, Donald Trump, meat and general disdain of mainstream thought and attitudes is unlike anyone else you see on TV.
I went and bought a collection of his programmes on BBC DVD, which is brilliant, though is far from comprehensive, and doesn't include "Off Kilter". There is a lot of his work on Youtube, including great documentaries about Communist art and Nazi art ("Nazi's were hippies").
Anyway, I wanted to watch Off Kilter again, so here it is, at least episode 1 (in 6 parts) to start with.
JONATHAN MEADES – "OFF KILTER" EPISODE 1 (ABERDEEN)
Ok, I didn't like Rowan Atkinson as a child. Mr Bean was just annoying. I didn't watch Blackadder until a couple of years ago (which I liked). Looking back, Mr Bean still isn't very funny, but Atkinson's movements are pretty incredible, from his face down to his feet. We were watching youtube clips the other day, and were reminded of the following clip, of Atkinson playing an invisible drumkit, and its just incredible. I am sure people will look back and consider him one of the greats of physical comedy. Here are a couple of other clips in the same vein, the piano player, and the conductor.
ROWAN ATKINSON – INVISIBLE DRUMMER
ROWAN ATKINSON – THE PIANO PLAYER
ROWAN ATKINSON – THE CONDUCTOR
More things from youtube that you may like. Firstly, a rare video of Jesse Rae performing "Over the Sea" (though I think its live footage put to the actual recording) at what looks like a (poorly attended) highland games…Jesse's still out there, go search him out. African mask dancing, Busta Rhymes, Turkmenistan, North Korean Military choirs, and a brilliant video by old Marseille team-mates, Basile Boli and Chris Waddle.
JESSE RAE – OVER THE SEA
BATOTO YETU – MUKIXI
BUSTA RHYMES – LITE YA ASS ON FIRE
BBC REPORT ON ASHGABAT CITY
NORTH KOREAN MILITARY CHOIR
BASILE BOLI & CHRIS WADDLE – WE'VE GOT A FEELING
These three films were all made in August 2005, when I was in Venice for 6 weeks working at the Biennale. I have just got them transferred to dvd. There are very few people in these, I was keen to get away from all the tourists making films and make my own in the back streets. The first film has a narrative, based on a story I read in the Time Out guide to Venice, about the death of Giovanni Cestaro in 1779.
"Poor Giovanni" – 2005

"Venice Buildings" – 2005

"Venice Walls" – 2005

I have an idea, this is it:
MOSAIC MUSIC
I am basically looking for new ways to spark my own creativity and song-writing/music-making as well as inviting other musicians and non-musicians to share in the process and share the results with one another.
Each month, I will set parameters for a new piece of music to be written. At the start of the following month, I will post my finished music (and anyone else who joins in) on my blog, along with the parameters for the next month's music. Therefore, after a year, 12 new tracks will have been recorded (per person, if they stick with it).
I understand how busy people are, and that if anyone else is likely to join in, they are unlikely to be able to produce something new every month – this doesn't matter. I am purely looking for a new way to create something, without the pressure of 'integrity' or the need for the music to be 'good' – I just think it will be fun, and as much as anything, it's a new way for me to maintain friendships and musical relationships. I do not have a desire to impose strict rules that must be adhered to or 'you're out', merely to provide starting points which may help to increase the speed at which the creative process happens.
THE PARAMETERS
Ok, so first of all, the parameters must be set. I see these as being things like;
TEMPO / LENGTH / MUSICAL KEY / MAIN INSTRUMENTS / TIME SIGNATURE / NUMBER OF VOCALS (if any) / SPECIFIC GENRE INFLUENCES / RANDOM ELEMENTS (ala Peter Schmidt & Brian Eno's 'Oblique Strategies')
These parameters will be set out beforehand, with a variety of options in each. Then the options will be picked out of a hat at random. So, for example, the parameters for the first month's music may be something like:
Tempo – between 120 – 130 bpm
Length – between 2mins & 2mins 30secs
Musical Key – Gminor
Main Instrument – Fretless Bass
Time Signature – 3/4
Number of Vocals – 5
Specific Genre Influences – Rockabilly, atonal classical and Bluegrass
Random Element – "Make it stink"
At this point I would have a month to make a piece of music to these parameters, as would you (we wouldn't be making music together, but separate pieces). I would not be so strict as to refuse any responses at all to these parameters (particularly if say, you can't play in 3/4 time, you don't have a fretless bass, you can't sing, you don't know what bluegrass is like, and "make it stink" is not what you like to do), however, I think it would make it more interesting if people stuck as closely as possible to the parameters.
A month later, you would email me your music, and I would publish it alongside my own, and everybody else's – then we can all listen to, comment on and probably laugh at each others attempts.
WHAT HAPPENS NOW?
Firstly, let me know if you'd like to be involved. If you absolutely don't want to be involved, let me know as well, otherwise I'll keep emailing you about it.
Secondly, let me know what you think about possible parameters, and options within each of these. I certainly haven't finalised any of these yet, and am interested in hearing any suggestions.
Thirdly, let me know if you think anything else could be added to the idea (or taken away) to improve it, or if you have any questions regarding it.
Fourthly, let anyone else know who you think might be interested. I am not looking for just musicians, but anyone at all, particularly people who may be able to interpret things differently.
There is no reward in this project, no money (unless somebody writes something fucking brilliant and it gets picked up by Kwikfit, Flora or some such for an advert).
Clearly this is influenced directly or indirectly by Eno, Cage, aleatoric music, Stockhausen, Duchamp, cut-ups etc etc and I make no claims for this to be an original idea or an intellectual exercise – I am just very, very keen to introduce some variety into my own song-writing methods, and to involve friends in the process, and for things to happen in a 'controlled/uncontrolled' way.
Let me know what you think
Craig
This week's mix is by Mrs Ridgewell, nee Coulthard.
1. The Cure – All Cats Are Grey
2. Saint Etienne – Language Lab
3. Cocteau Twins – Fifty-fifty Clown
4. Pharcyde – Drop
5. Bear in Heaven – Lovesick Teenager
6. Bjork – Triumph of a Heart
7. Yeasayer – Ambling Amp
8. Orbital – Lush 3-1
9. Dubstar – Disgraceful
10. Dangermouse & Sparklehorse – Dark Night of the Soul
11. Busta Rhymes – Woo Haa! Got You All in Check
12. 808 State – Pacific State
13. Supergrass – We're Not Supposed To
14. David Bowie – Jump They Say
15. Boards of Canada – Kid For Today
16. The Slits – Heard it Through the Grapevine
17. a-ha – Cry Wolf
18. Fleetwood Mac – That's All For Everyone
Here are some clips that I favourited a long time gone, and thought you might like to see…
1. Sister Rosetta Tharpe – Up Above My Head
2. Fats Waller – Your Feet's Too Big
3. Julie London – Daddy
4. Thelonius Monk – Blue Monk
5. Bo Diddley – Bo Diddley
6. The Corries – Kismuil's Galley
At school, I think, a friend and I discovered a mutual knowledge/confusion about a series of drawings of a large nosed man peeking over a brick wall, usually with the words "Wot no….cheese?". I don't know where I first saw this image, probably in the background of an old copy of Oor Wullie or something. The image above was sent to me by the same friend a couple of weeks ago. I am sure I then saw a number of similar images in public toilets, the word "cheese" replaced with something else, perhaps 'cock?' or 'paper?'. Neither of us had any idea who or what this big-schnozzed, bald cartoon oddball was. I have since done some reading….
The character is generally known (in the UK) as "Mr.Chad". Apparently;
"Mr Chad" was born in 1941 at a secret school in Gainsborough, Lincolnshire, that was teaching "Radio-Location", now called "Radar". A lecturer was illustrating on a blackboard the effect of a capacitor in a circuit. How the drawing started is shown in the attached picture.
Later, an unknown genius added the question mark and the now immortal words "WOT! No Electrons?" (all of them having been discharged, of course)." – http://www.bbc.co.uk/ww2peopleswar/stories/19/a3568719.shtml
After this, the end drawing was to be found all over the place during the 2nd World War, as people put other words into Mr. Chad's mouth, mostly relating to rationing and general shortages, eg "Wot! No banana's?" or "Wot! No silk!" etc.
The phrase "Wot no…." pre-dates the drawing of the big nose, which has a passing resemblance to "Alice the Goon" from Popeye.
There is no certainty about the origin of the drawing or the phrase, and in the USA the drawing is usually connected with the phrase "Kilroy Was Here". This phrase is known to have been chalked on the walls of Fort Knox before 1939, and after the war seems to have been joined to the drawing of Mr.Chad by American soldiers based in the UK. According to Wikipedia
"One theory identifies James J. Kilroy (1902–1962),[15] an American shipyard inspector, as the man behind the signature. The New York Times indicated J.J. Kilroy as the origin in 1946, based on the results of a contest conducted by the Amalgamated Transit Union to establish the origin of the phenomenon.[16] The article noted that Kilroy had marked the ships themselves as they were being built—so, at a later date, the phrase would be found chalked in places that no graffiti-artist could have reached (inside sealed hull spaces, for example), which then fed the mythical significance of the phrase—after all, if Kilroy could leave his mark there, who knew where else he could go?"
Anyway, here are some more images of Mr.Chad and Wot No…. If anyone finds any more pictures, please do take a photo and send them to me. The following are mostly internet images, and as such, are shite. Real ones on walls is what I want to see….
(I have since been informed of a site called "kilroy was here" that has a section of sightings…..have a look here)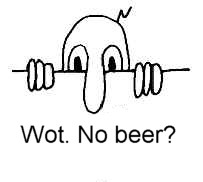 this one (above) comes from a still from a film called "The Way We Live" (1946) a documentary about post-war rebuilding of Plymouth.